PN 100110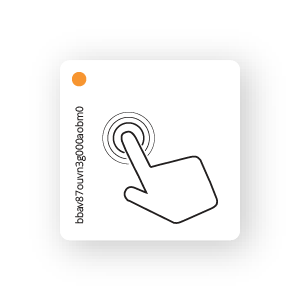 The Wireless Touch Sensor detects when the sensor is touched. A touch will result in a wireless message being sent viaSecureDataShot™ technology to the Cloud Connector (Gateway), notifying the user about the event. The Cloud Connector then relays the event notification onwards to a cloud server.
The Wireless Touch Sensor transmits a message notifying the system that it is present and operational at 15-minute heartbeat intervals.
Specifications
Operating Conditions, Temperature range
-40°C to +85°C
Operating Conditions, Recommended temp. range
-25 to 50 °C non condensing
Operating Conditions, Humidity at 25 °C
0 to 100% relative humidity
Lifetime
Up to 15 years in the standard transmission mode in a standard environment
Robustness
IP68, suited for industrial use
Size
19mm x 19mm x 2.5mm
Weight
2.0g
Wireless range
Standard mode: 25m indoor, up to 300m free-space
Boost mode: up to 1000 m free-space
Wireless communication
868 MHz ISM band, SecureDataShot

™
See datasheet for detailed specifications.
Documents
Datasheet Wireless Touch Sensor 100110 (EU)
Safety and Use Leaflet Sensors and Cloud Connector EU 3G/2G
Safety and Use Leaflet Sensors and Cloud Connector EU 4G
Declaration of Conformity
Common Questions
How does the sensor handle multiple touches in a short period?
The Wireless Touch Sensors are optimized to detect touches and can handle multiple touches per second.
While all Sensors send a status update every time they are touched, we recommend having a pause of 0.5–1 second between each touch for non-Touch Sensors.