This guide gives instructions on how to install Desk Occupancy sensors so that they can report readings to the cloud. 
Quick access
3. Activation
5. Calibration & Settling Period
What you need
Besides the Desk Occupancy sensor itself, it is advisable to have the following on hand:
a laptop or a smartphone running the DT Studio web application studio.d21s.com. If your company does not have a DT Studio organization, get started at d21s.com/start
we also recommend having one or more online Cloud Connectors (gateways) close by to enable forwarding sensor data to the DT Cloud and to check the connectivity of the sensor once it is installed
optional: Range Extender accessory. 
Planning the installation
For larger installations, please plan before starting. Only one sensor per desk is required.
People sitting very close to the sensor can attenuate the radio signal. We recommend installing the sensor with a range extender or calculating an extra margin of safety on the wireless range.
The number of Cloud Connectors needed to cover a typical office space depends on the size of the space as well as the material the walls in the space are made up of. For example, concrete will reduce the coverage area more than thin drywall. 
Activation
Claim the sensors in Studio by scanning the QR code found on the sensor packaging. If only a few sensors are needed, they can also be claimed individually in Studio. The sensor is now available in Studio and you can give it a name, a description, a label, etc.
To ensure that the coverage is sufficient, we recommend placing all the sensors on top of the desks before they are permanently installed. The connectivity status for all sensors can then be viewed in Studio to check if any of the sensors are in High Power Boost Mode or not reporting data.
Mounting options
The sensor should be installed under the desk, approximately 2 to 4 cm from the edge of the desk, at the center where a person is usually sitting. Clean the installation surface, peel the protective film from the back of the sensor, stick the sensor to the table, and press it firmly for a few seconds to ensure good adhesion.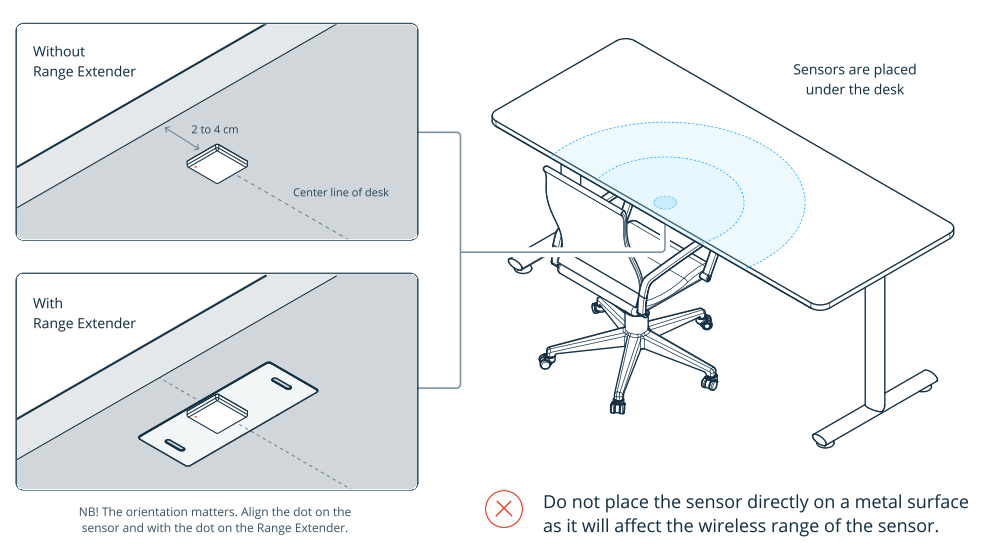 Calibration & Settling Period
After the installation, the sensor needs a working day of data from the environment before it accurately determines the occupancy status of the desk.
Factors that impact measurement accuracy:
HVAC - unusual heating and cooling patterns
Offline periods - the sensor uses historic data to estimate the likelihood of people sitting at the desk