PN 100118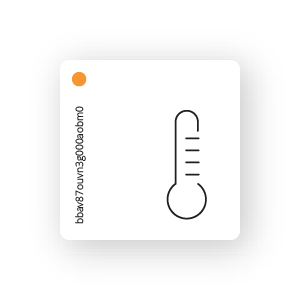 The Wireless Temperature Sensor measures the surrounding temperature and wirelessly transmits the result to a Cloud Connector (Gateway) via SecureDataShot™ technology. The Cloud Connector will relay the temperature reading to a Cloud service. The readings are performed at 15-minute heartbeat intervals.
The Wireless Temperature Sensor has touch functionality for simple installation and use.
Specifications
Operating conditions, temperature range
-40°C to +85°C
Operating conditions, recommended temperature range
-25 to 50 °C non condensing
Operating conditions, humidity at 25 °C
0 to 100% relative humidity
Recommended storage conditions
Cool and dry, near normal room temperature
Reporting frequency
The temperature is measured every 15 minutes and reported to the cloud
Construction
Sealed, IP68
Material
Impact modified acrylic film
Size
19mm x 19mm x 2.5mm
Weight
2.0g
Lifetime
Up to 15 years in the standard transmission mode in a standard environment
Certifications and compliance
CE, WEEE, Batteries directive
Wireless range
Standard mode: 25m indoor, up to 300m free-space
Boost mode: up to 1000 m free-space
Wireless communication
868 MHz ISM band, SecureDataShot™
Temperature resolution
0.05 °C resolution, 0.4°C absolute accuracy at 25°C
See datasheet for detailed specifications.
Documents
Datasheet Wireless Temperature Sensor 100118 (EU)
Safety and Use Leaflet Sensors and Cloud Connector EU 3G/2G
Safety and Use Leaflet Sensors and Cloud Connector EU 4G
Declaration of Conformity
Photos
Accessories
Common Questions
Is it possible to measure temperature more often?
The sensors are fixed to measure the temperature every 15 minutes. If a more frequent reading is required, we offer the Wireless Temperature Sensor (EN12830) sensor which measures the temperature every 5.5-minute.
Also please note that most real-world temperature changes are very slow compared to our default 15-minute reporting interval. To take a concrete example, an air conditioner that has been configured to a specific temperature will take one hour or more to actually cool down, or heat up, a room to that temperature, depending on the temperature change. During this time, you will have multiple data points to monitor the change in temperature.