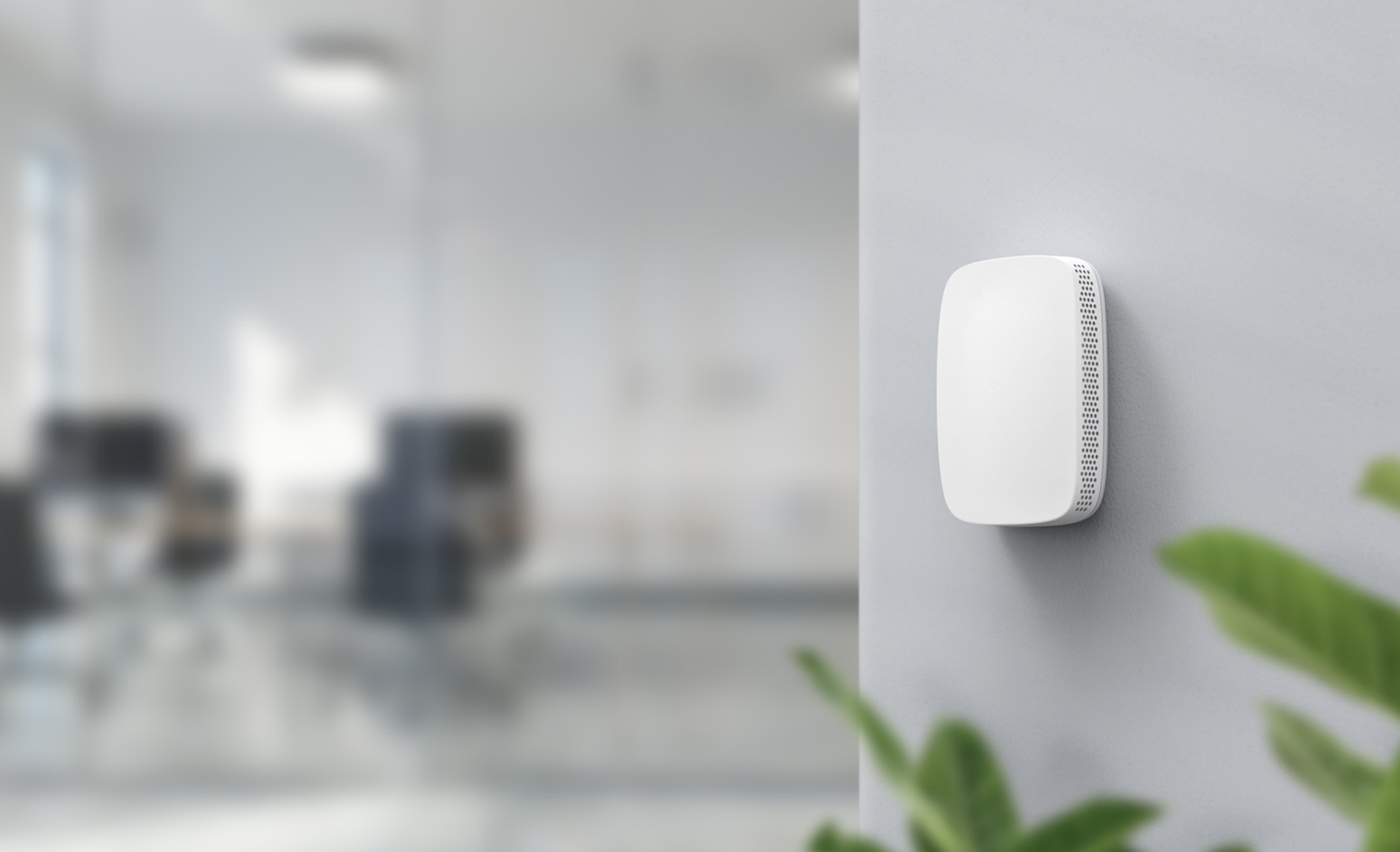 The Wireless CO2 Sensor periodically measures CO2 (ppm), temperature (°C/°F), relative humidity (% RH), and barometric pressure (Pa/bar) in the surrounding air and wirelessly transmits the result to nearby Cloud Connectors (gateways) via the SecureDataShot™ protocol. Cloud Connectors relay sensor data into the DT Cloud infrastructure. From here, data can be integrated into other services using our developer APIs or viewed directly in DT Studio. 
EU and US variants
This sensor is available in two variants, one for the EU and one for the US, due to different certifications, compliances, and wireless communication.
Specifications
Operating conditions 
Temperature range
0 to 50 °C / 32 to 120 °F
Recommended temperature range
0 to 50 °C / 32 to 120 °F
Humidity
0 to 95% relative humidity
Technical specification
Carbon Dioxide (CO2)

Sensor Technology: NDIR

Range: 0 to 5000 ppm

Typical Accuracy: ± (30 ppm, +3% of reading), max ± (45 ppm,

+3% of reading)

Temperature

Sensor Technology: CMOS

Range: 0 to 50 °C / 32 to 120 °F

Typical Accuracy: ±1°C / 1.8°F

Relative Humidity

Sensor Technology: CMOS

Range: 10 to 95% (non condensing)

Typical Accuracy: ± 3%

Pressure

Sensor Technology: CMOS

Range: 500 to 1110 hPa (mbar)

Typical Accuracy: ± 1 hPa (mbar)

Wireless communication
 EU
868 MHz SRD/ISM band, SecureDataShot™
 US
915 MHz ISM band, SecureDataShot™
Certifications and compliance 
EU
CE, UKCA
US
Certified to FCC and ISED regulations
FCC ID: 2ATFX-102540
IC: 25087-102540
Other
Recommended storage conditions
Cool and dry, near normal room temperature
Construction Material
Polycarbonate (PC) 
Size and weight
95 x 66 x 25 mm, 116.0 g
Lifetime
Up to 10 years in the default configuration and standard environment (Batteries are replaceable)
Wireless range
100 m (328 ft) typical indoor. Up to 2000 m (6500 ft) in line of sight.
Product numbers and datasheets
102521
Wireless CO2 Sensor EU
102522
Wireless CO2 Sensor US
Datasheet
 Datasheet Wireless CO2 Sensor EU/US
Installation
Detailed installation and planning instructions can be found in the  Installation Guideline.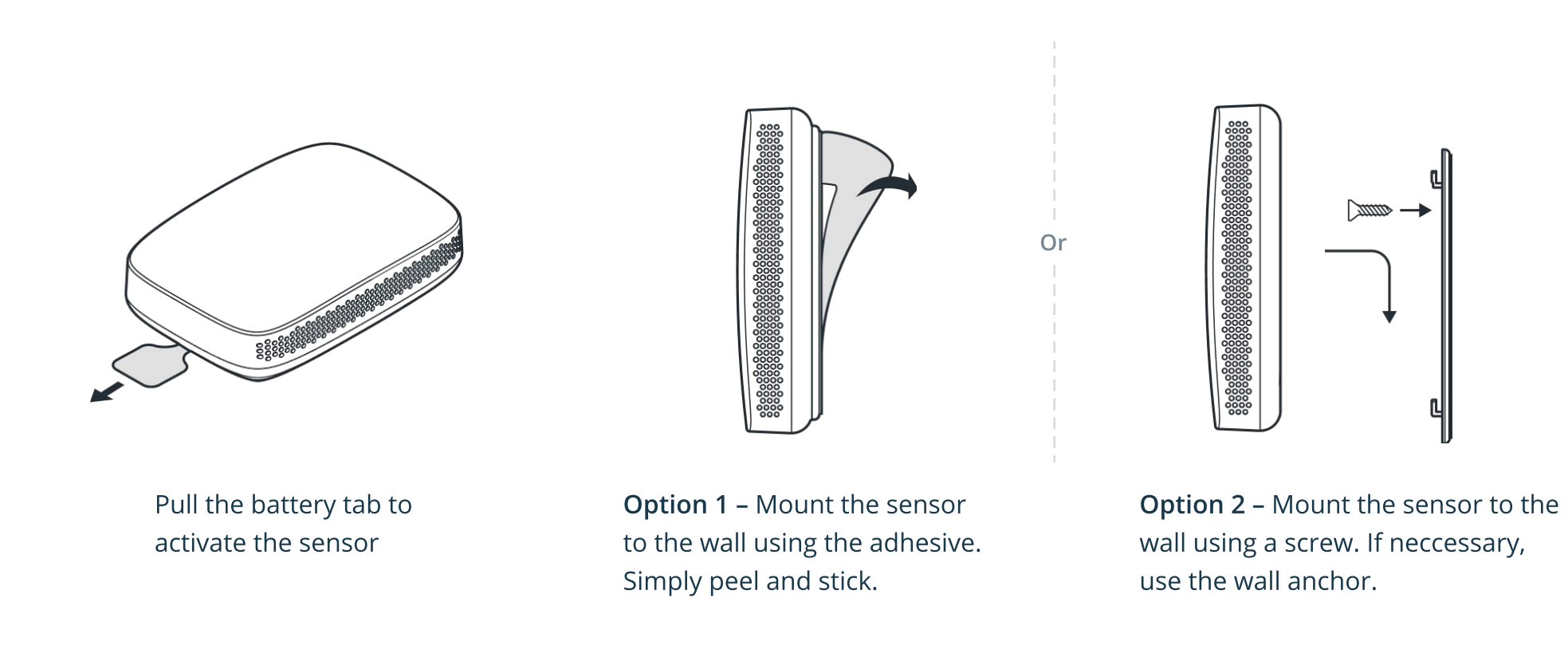 Activation
Activate the sensor by removing the battery tab. Nearby online Cloud Connectors will automatically start to relay data from the sensor to the cloud service.
Mounting
CO2 sensors are designed to be wall mounted at approximately 1-1.8m (3-6 ft) above the floor
(breathing height). Installing the sensor higher on the wall or in the ceiling can lead to measuring artificially low CO2 levels.
Mounting option 1, adhesive: Mount the sensor to a clean wall surface using the included adhesive backing. The adhesive creates a strong bond to the surface and can't be removed and reapplied once placed.
Mounting option 2, screws: Remove the mounting plate by sliding it downwards and mount the bracket to the wall using a screw. Please note: Screw and wall anchor are not included in the box.
Calibration & Settling Period
After the installation, the sensor needs 7 days to calibrate itself before the CO2 measurements are within the specification. CO2 levels might be artificially high within the first 7 days.
Factors that impact measurement accuracy
Because the sensor provides real-time measurements, the readings taken during installation can be artificially high.
Human breath within meters of the sensor can impact the CO2 reading.
Physically touching the device during installation can impact temperature and humidity measurements.
Battery Replacement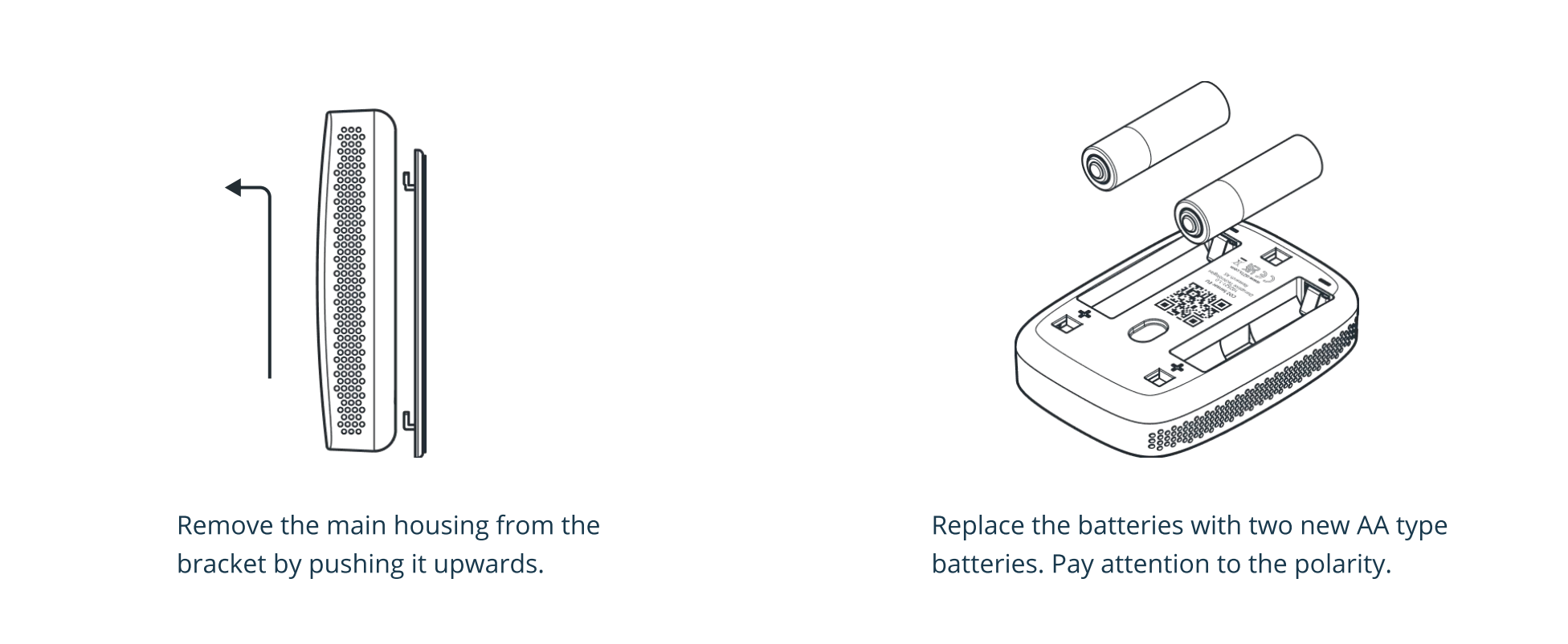 References