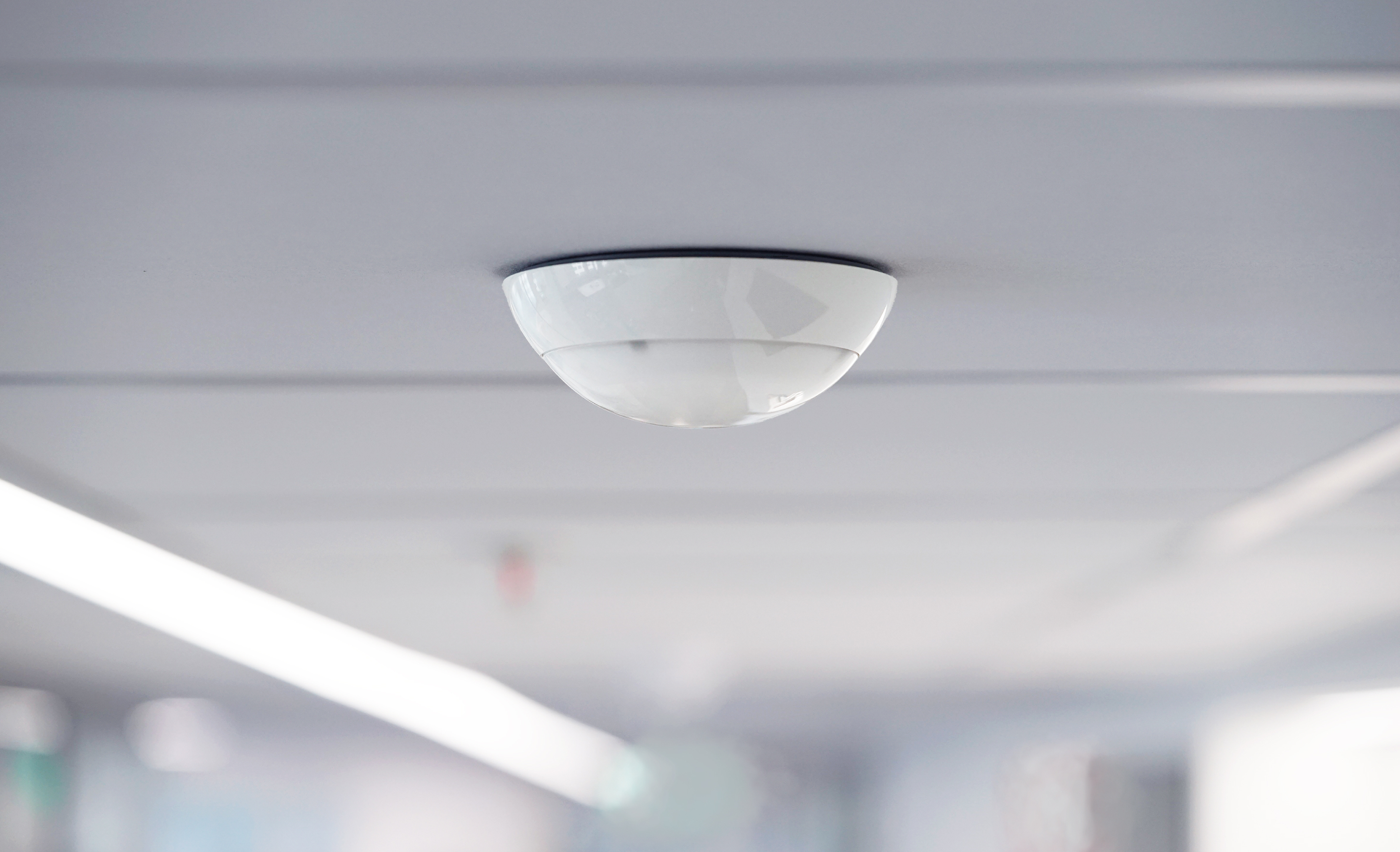 The Wireless Motion Sensor uses Passive Infrared Sensor (PIR) technology to detect the presence of people by measuring changes in infrared light intensity coming from people moving into the sensor's field of view. Detection events are wirelessly transmitted to nearby Cloud Connectors (gateways) via the SecureDataShot™ protocol. Cloud Connectors relay sensor data to the DT cloud infrastructure. From there, data can be integrated into other services using our REST APIs or viewed directly in DT Studio (web application).
EU and US variants
This sensor is available in two variants, one for the EU and one for the US, due to different certifications, compliances, and wireless communication.
Specifications
Operating conditions
Temperature range
0 to 50 °C / -32 to 122 °F
Recommended temperature range
0 to 50 °C / -32 to 122 °F
Humidity
0 to 90% relative humidity (non condensing)
Wireless communication
EU
868 MHz SRD/ISM band, SecureDataShot™
US
915 MHz ISM band, SecureDataShot™
Certifications and compliance
EU
CE, UKCA
US
Certified to FCC and ISED regulations
FCC ID: 2ATFX-102518
IC: 25087-102518
Other
Recommended storage conditions
Cool and dry, near normal room temperature
Construction material
Polycarbonate (PC)
Size and weight
110 mm(

⌀)x42 mm

, 123.0 g
Lifetime
Up to 10 years in the default configuration and standard environment
Wireless range
100 m (328 ft) typical indoor. Up to 2000 m (6500 ft) in line of sight.
Product numbers and datasheets
102517
Wireless Motion Sensor EU
102518
Wireless Motion Sensor US
Datasheet
Datasheet Wireless Motion Sensor EU/US
Installation
Detailed installation and planning instructions can be found in the Installation Guideline.
Activation
Detach the mounting plate and remove the battery tabs. Nearby online Cloud Connectors will automatically start to relay data from the sensor to the cloud service.
Mounting
Motion Sensors are designed to be ceiling mounted.
Mounting option 1, screws (recommended): Attach the mounting plate to the ceiling using the included screws. If necessary, use the wall anchors.
Mounting option 2, adhesive: Attach the mounting plate to a clean ceiling using the adhesive backing. Add a single screw to the center for extra safety. The adhesive creates a strong bond to the surface and can't be removed and reapplied once placed.
Lock the sensor in place by turning it clockwise on the mounting plate and fasten the included safety screw.
Detection Area
The detection area's size depends on the sensor's installation height.
| Installation Height | Detection Diameter |
| --- | --- |
| 2.4 meters (8ft) | 9.5 meters (31ft) |
| 3 meters (10ft) | 12 meters (40ft) |
| 3.6 meters (12ft) | 14 meters (45.9ft) |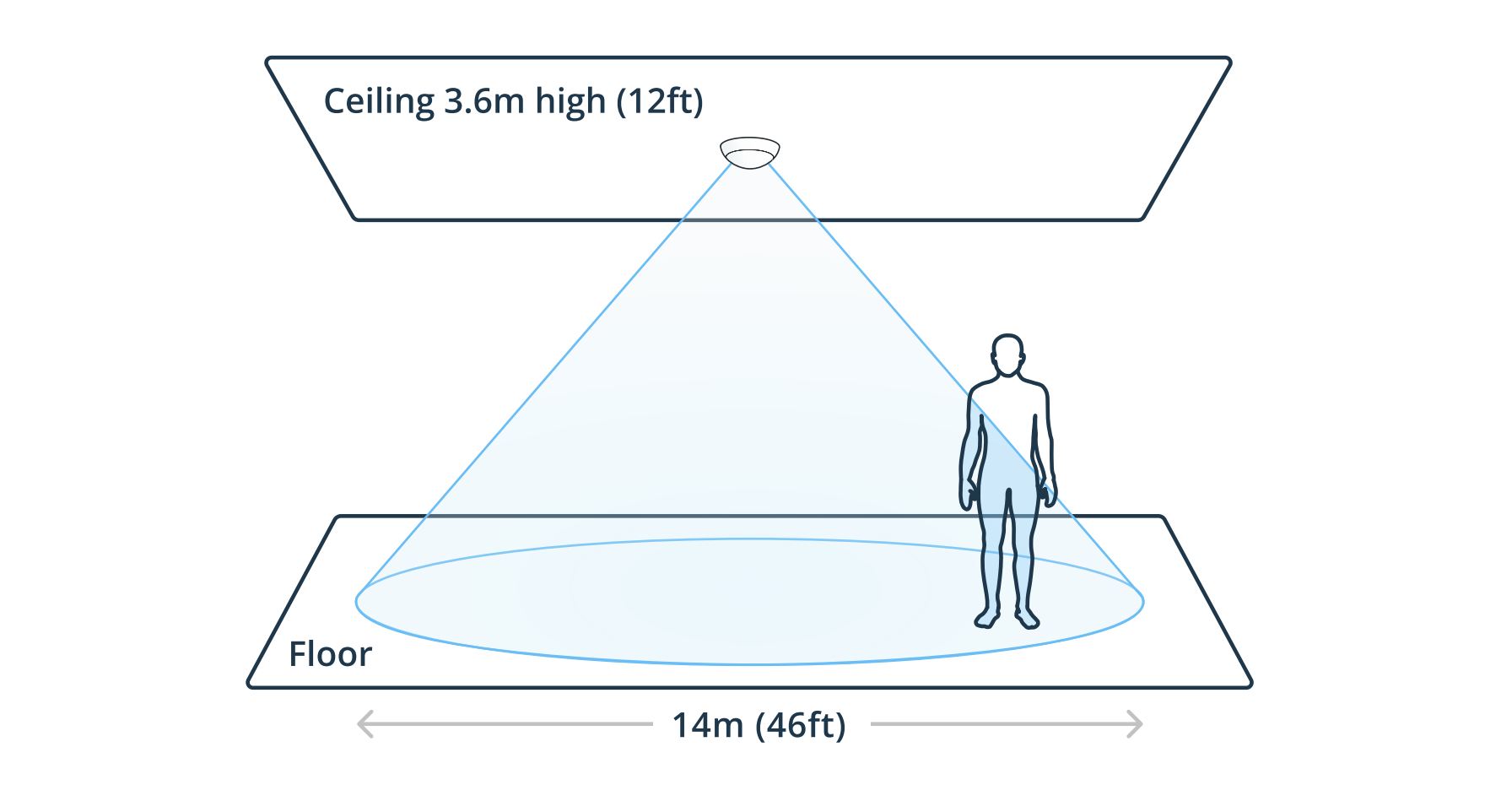 The maximum installation height possible is 3.6 meters (12 ft), resulting in a detection area diameter of 14 meters (46 ft).
Battery Replacement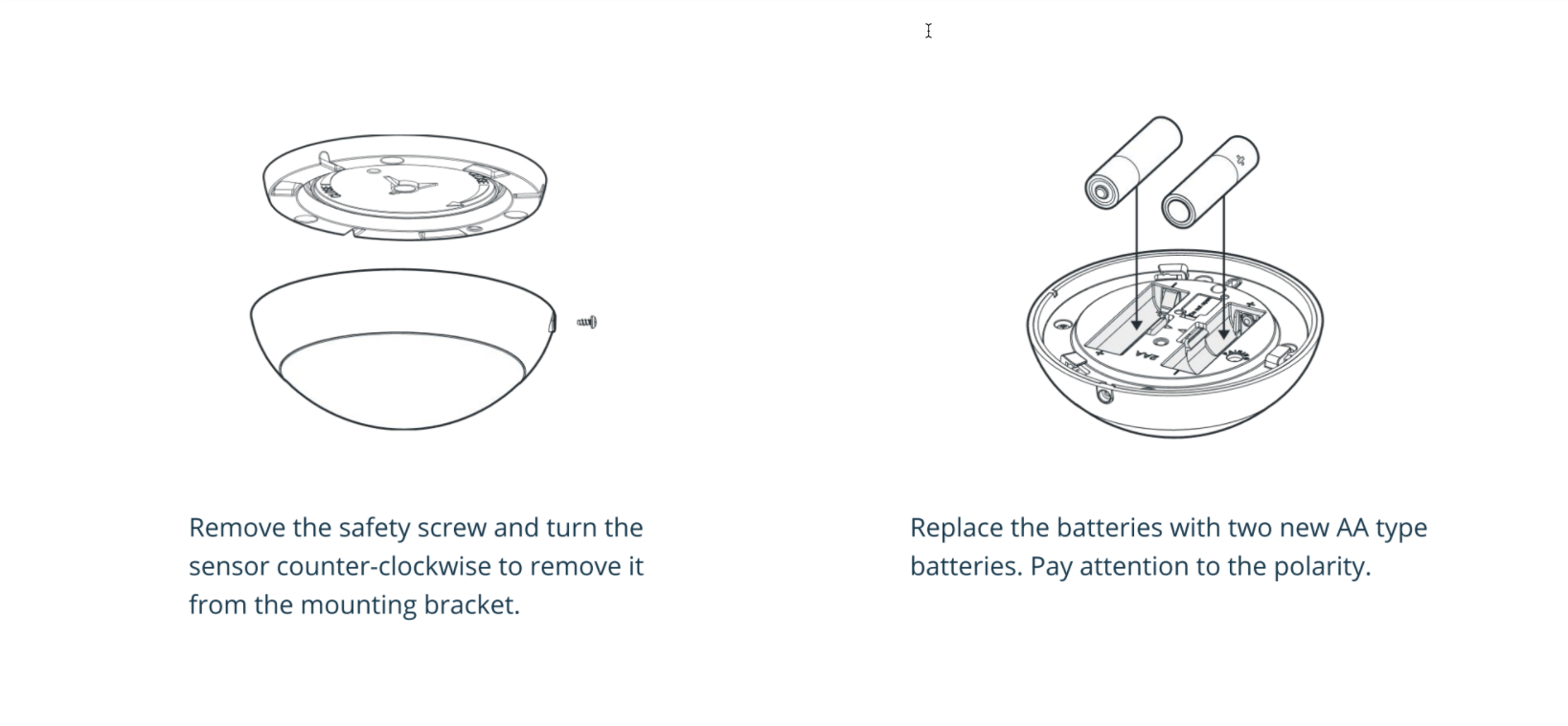 References