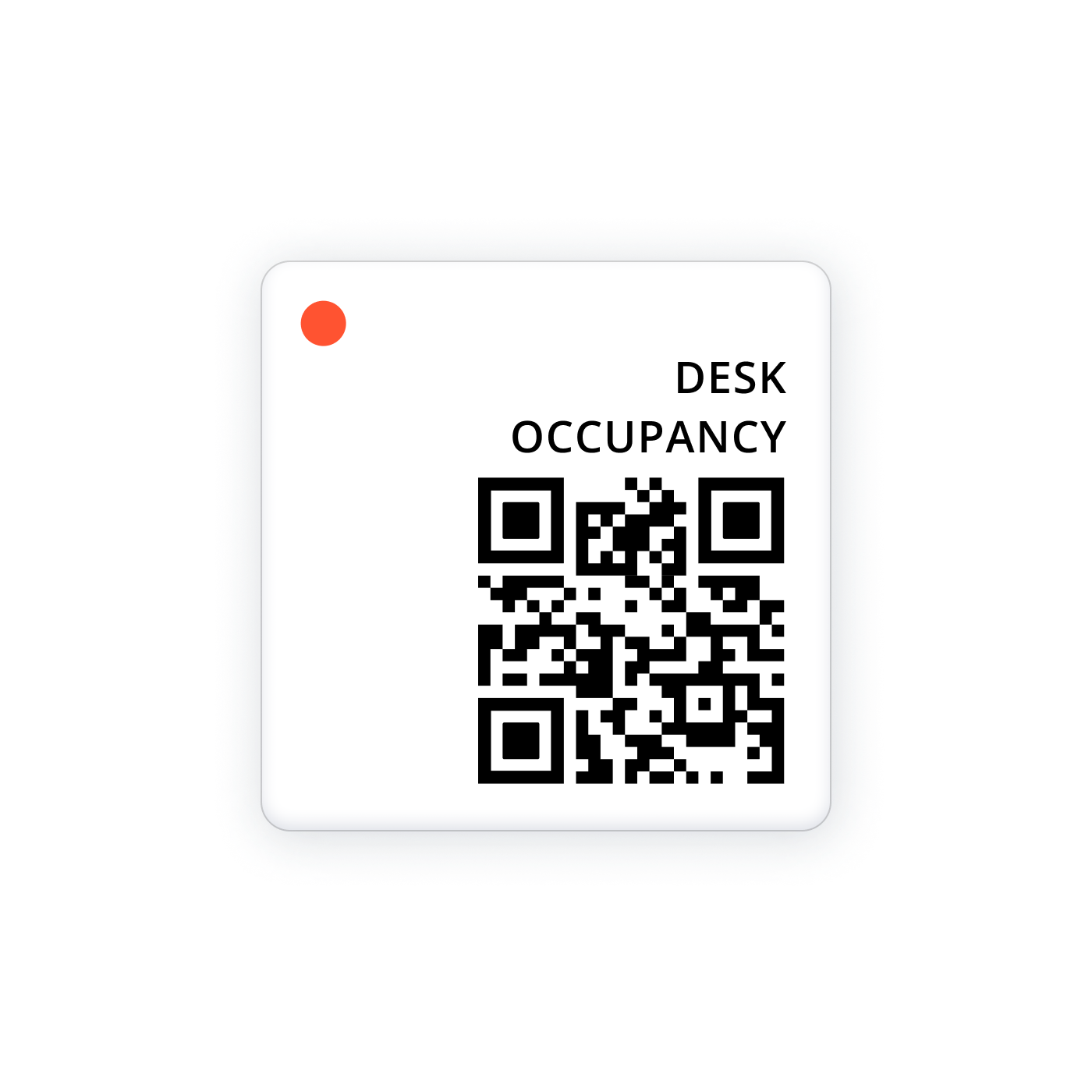 The Wireless Desk Occupancy Sensor uses a combination of temperature measurements and machine learning to determine if a desk is occupied or not based on temperature changes created by the presence of people sitting at a desk. The result is wirelessly transmitted to nearby Cloud Connectors (gateways) via the SecureDataShot™ protocol. Cloud Connectors relay sensor data to the DT cloud infrastructure that users can either forward to other cloud services using Data Connectors or use the data directly in DT Studio (web application).
EU and US variants
This sensor is available in two variants, one for the EU and one for US/Canada, due to different certifications, compliances, and wireless communication.
Specifications
Operating conditions 
Temperature
0 to 50 °C / 32 to 122 °F
Humidity
10 to 90% RH (non-condensing)
Wireless communication 
EU
868 MHz SRD/ISM band, SecureDataShot™
US/Canada
915 MHz ISM band, SecureDataShot™
Certifications and compliance 
EU
CE, UKCA, WEEE, Batteries directive
US/Canada
Certified to FCC and ISED regulations
FCC ID: 2ATFX-100541
IC: 25087-100541
Battery Specification
Battery
BR1225  (non-replaceable)
Lifetime
Up to 9 years (standard mode), up to 3 years (Boost mode)
Other
Storage conditions
Cool and dry, near normal room temperature
Construction
IP68, impact-modified acrylic film 
Size and weight
19 x 19 x 3.5 mm, 3.0 g
Mounting method
Adhesive
Wireless Range
 
Indoor
25 m | 82 ft
40 m | 131 ft w/Cloud Connector (2nd Gen)
Indoor with Extender
100 m | 328 ft
150 m | 492 ft w/Cloud Connector (2nd Gen)
Product numbers and datasheets
EU
102553
US/Canada
102554
Datasheet
 Datasheet Wireless Desk Occupancy Sensor
See the datasheet for detailed specifications.
1) Based on standard ITU-R P.1238 (indoor) and ITU-R P.525 (free-space). 
Installation
Detailed installation and planning instructions can be found in the Desk Occupancy Installation Manual.
Resources