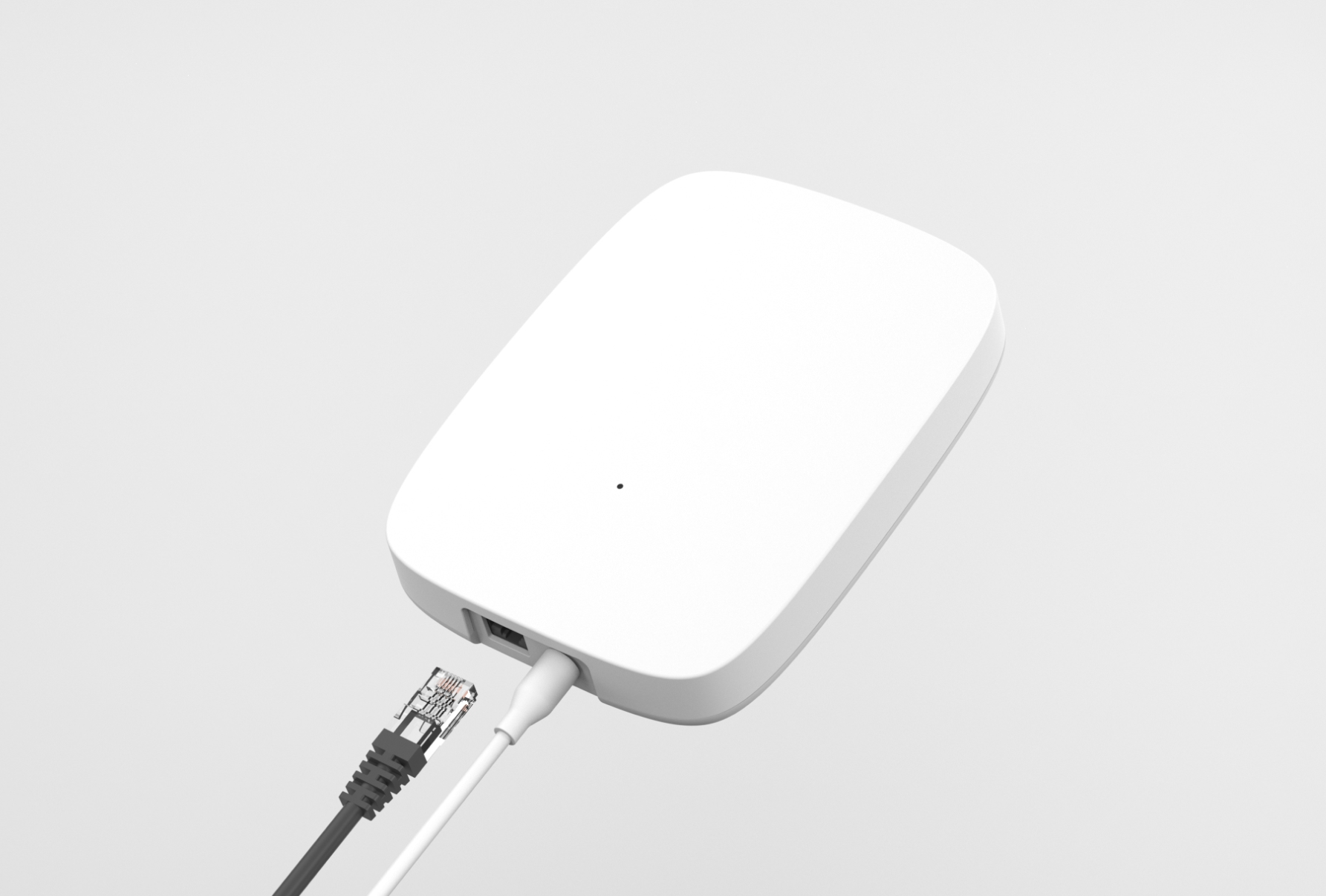 The Cloud Connector uses a cellular or ethernet connection to relay data from wireless sensors that communicate using the SecureDataShot protocol to the DT cloud infrastructure. Data from the cloud can be viewed directly in DT Studio (web application) or integrated into other services using REST APIs and webhooks.
Features
Built-in SIM card with a cellular roaming agreement
Automatically connects to the strongest cellular network
Long wireless range between sensors and Cloud Connector
No setup or configuration
Supports up to 10,000 sensors
Automatic software updates
Specifications
Operating Conditions
Temperature
0 to 50 °C | 32 - 120°F
Humidity
10 to 90% relative humidity (non-condensing)
Storage Conditions
Temperature
0 to 70°C | 32 - 158°F
Humidity
10 to 90% relative humidity (non-condensing)
Power Supply & Consumption
Power Supply
5V DC @ 2A
Plug Type
Type: Barrel - OD: 5.5mm ID: 2.1mm
Power Consumption
Average < 3W
Sensor Wireless Communication

Radio Protocol
SecureDataShot
Radio Frequency
EU: 868 MHz SRD band
US: 915 MHz ISM band
Transmit Power
< 100 mW
Wireless Range
See sensor specifications for more detail.
Cellular Communication
Transmit Power
EU: Cat 1 LTE FDD B1/3/7/8/20/28
US: Cat M1 LTE FDD B2/B4/B5/B12/B13/B25/B26/B66/B85
Communication Standard
EU: Power Class 3 (23dBm±2dB)
for LTE FDD bands
US: Power Class 5 (21dBm±1.5dB)
for LTE FDD bands
Other
Dimensions
153 x 114 x 30 mm | 6 x 4.5 x 1.2 inches
Weight
200 grams | 7 oz
Material
Polycarbonate (PC)

Ingress protection

IP20
Mounting method
Screws or adhesive (wall mount)
Certification & Compliance
EU
CE, UKCA
US/Canada
FCC, ISED, UL


Contains FCC ID: 2ATFX-102545
Contains FCC ID: ZMOMA510GL
Contains IC: 25087-102545
Contains IC: 21374-MA510GL
UL Certified, File No: E489020
Product Variants
Installation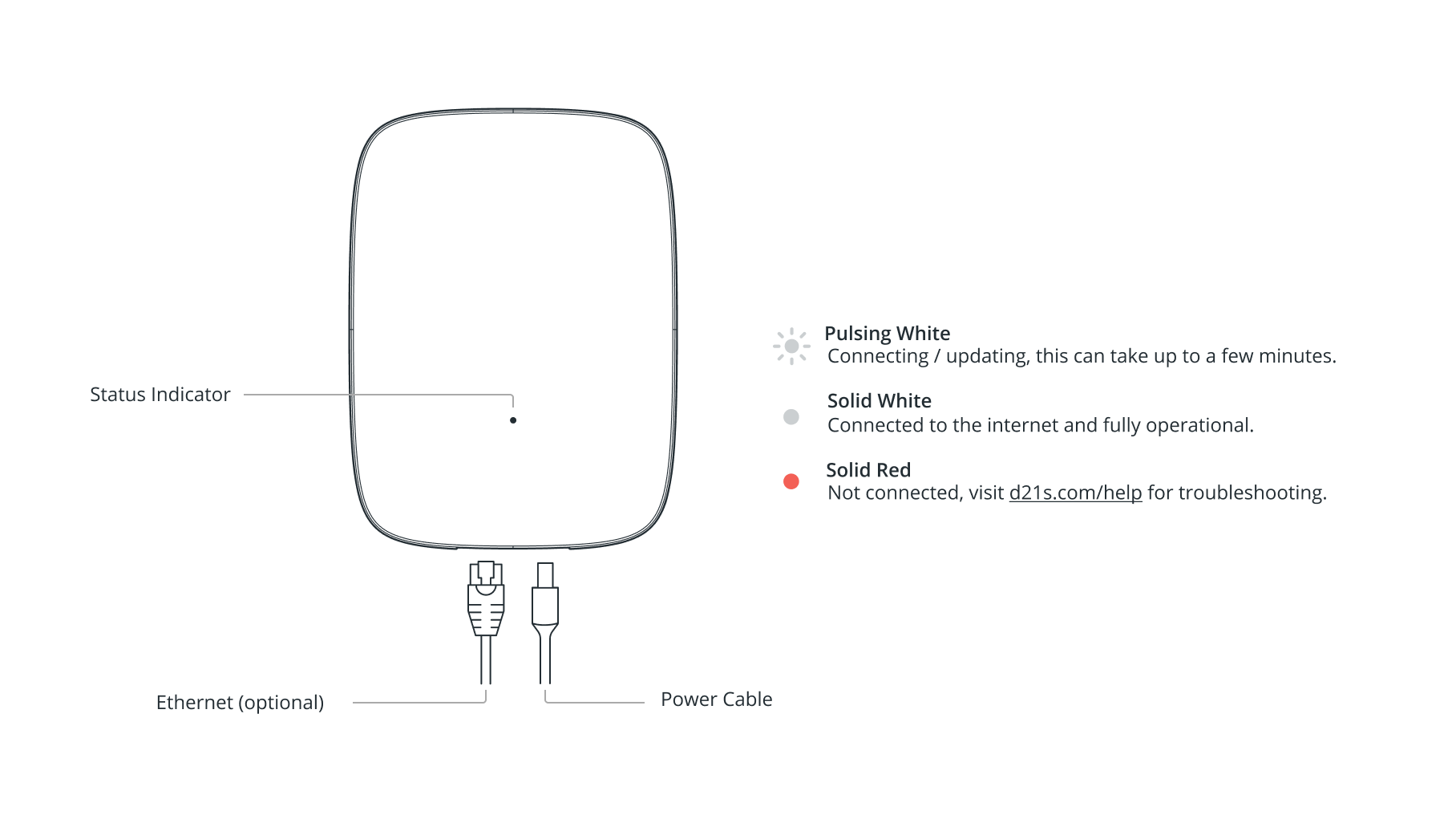 1. Claim the device
To have the device show up in Studio Organization, it must be claimed beforehand. Cloud Connectors are claimed by either scanning the Kit ID on the packaging or by scanning individual device IDs. IDs can also be entered manually if needed.
2. Connect to power
Use the provided power supply to power the Cloud Connector.
3. Connect to the cloud
If the device has a cellular modem, it will automatically start connecting to the cloud service. If not, plug in an ethernet cable to establish a connection.
4. Observe the Status Indicator
Pulsing White
Connecting / updating, can take up to a few minutes.

Solid White
Connected to the internet and fully operational.
Solid Red
Not connected, visit Cloud Connector troubleshooting for troubleshooting.
Mounting
Option 1: Wall or Ceiling Installation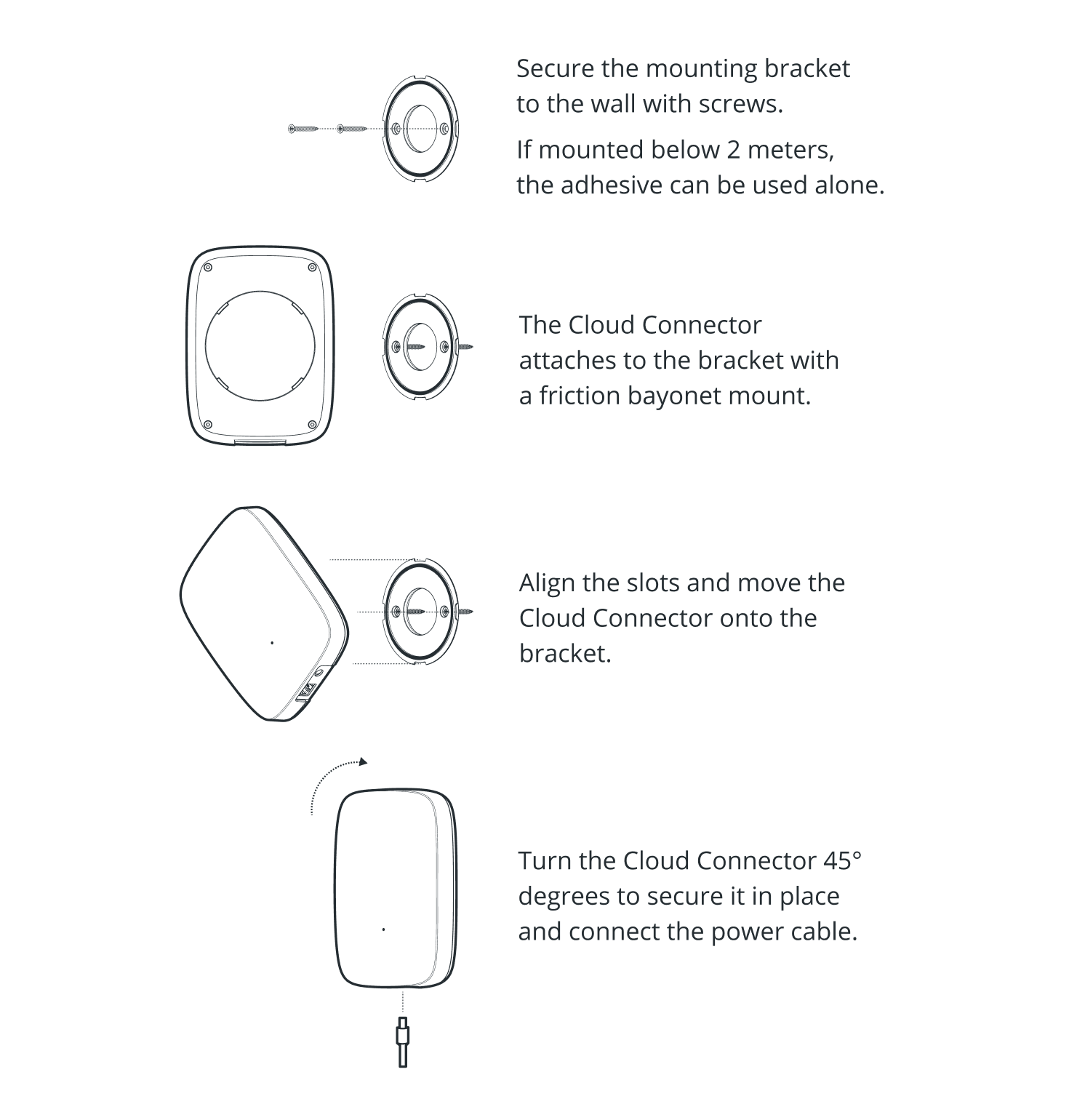 Option 2: Drop Ceiling Installation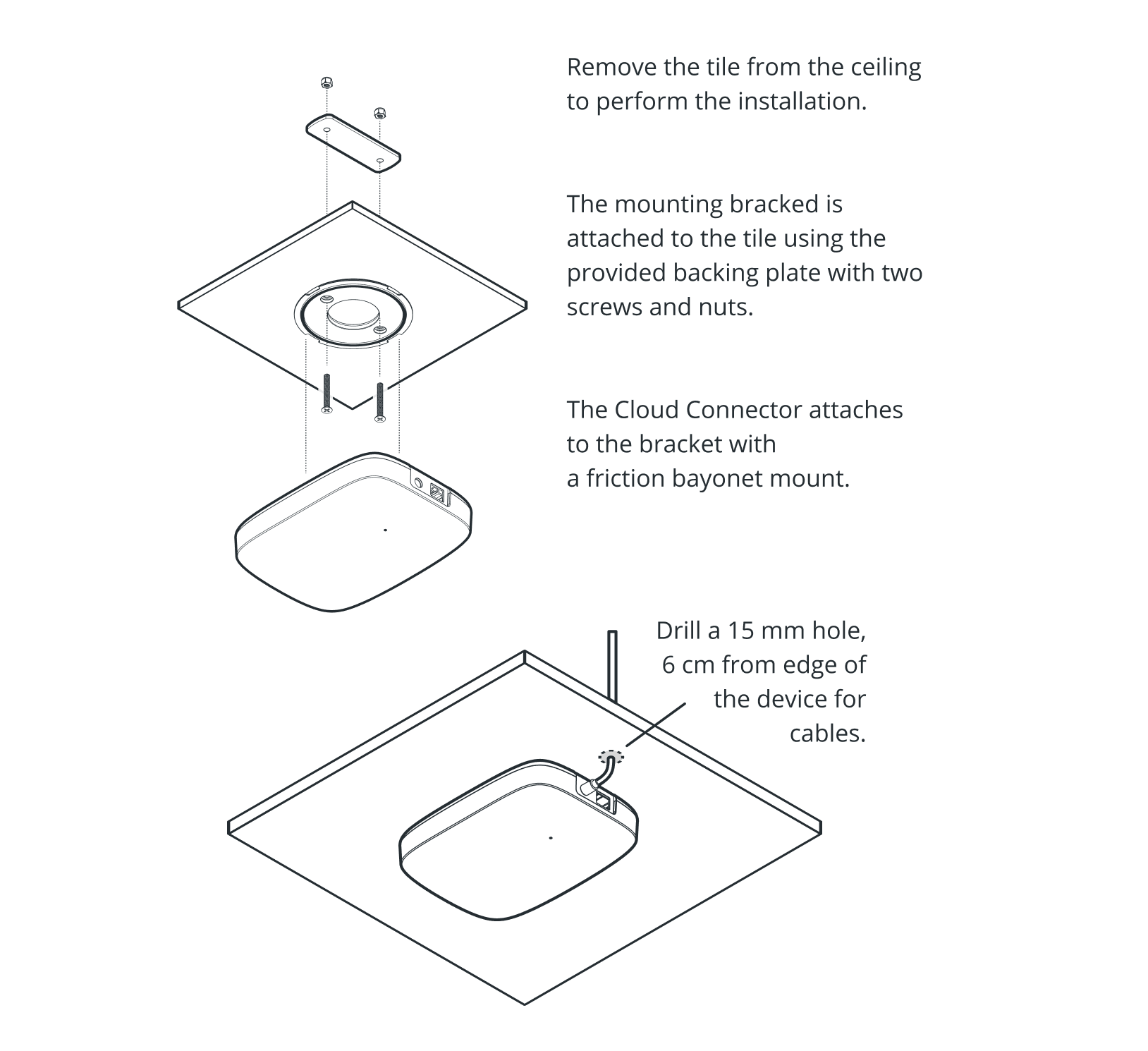 Documents