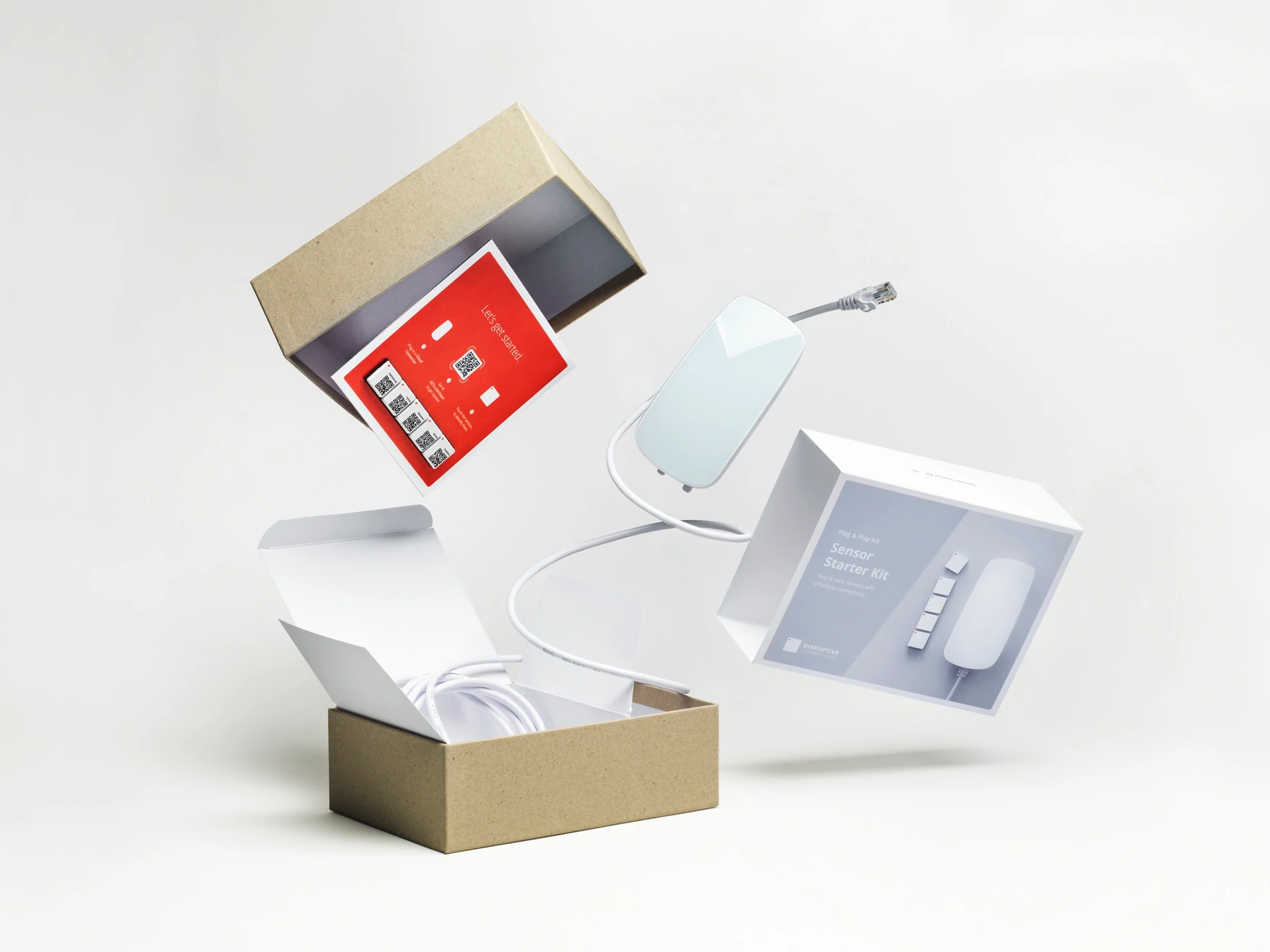 Congratulations on your new Sensor Kit! 
This tutorial will provide you with a few simple steps to begin using DT sensors.
Step 1
Create a Studio account and Organization
To view and manage your devices, you'll need both a Studio account and a Studio Organization. Once you've created a new account, you'll be able to establish an Organization within Studio.
Step 2
Claim your sensors and Cloud Connectors in Studio
After you've established your Organization, the next step is to register your devices (sensors and Cloud Connectors) in Studio, a process we refer to as "claiming." You can accomplish this by either scanning the Kit ID found on the packaging or by scanning individual Device IDs. Claiming essentially associates these devices with your Organization in Studio. The prepaid subscription will be activated when you claim a device.
Tactile Touch sensors do not have printed QR Device IDs, so the Kit ID has to be used to claim them.
Remember to also claim your Cloud Connectors to have them available in Studio.
Step 3
Connect the Cloud Connector
You're now ready to power on the Cloud Connector.
When the Cloud Connector is online, nearby sensors will automatically send encrypted data to your account in the cloud.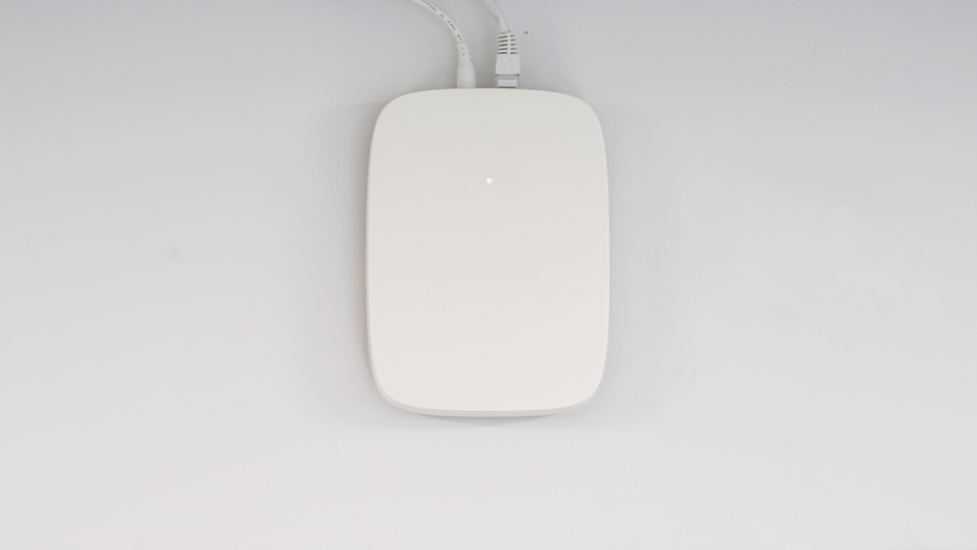 Cloud Connector connections: Power Supply cable(on the left) and Ethernet cable (on the right - optional)
Use the provided power supply to power the Cloud Connector. It will automatically start connecting. The pulsing white light on the indicator device means that the device is connecting/updating, and this can take up to a few minutes. A solid white light indicates that the device is connected to the internet and fully operational.
By default, Cloud Connectors establish connections using cellular networks, but they can also be connected via Ethernet, if required, by plugging in an active Ethernet cable.
Do you currently have an older version of the Cloud Connector?
To obtain guidance on connecting the previous version of Cloud Connector, please refer to our Help Center article.
Step 4
Check if the sensors are online
Studio has built-in QR scanning for quick and efficient identification across projects.
Scan the QR code for sensors and Cloud Connectors by tapping the QR button in the header. The QR code found on new sensors and all Cloud Connectors contains the ID of the device (e.g., b7ktsvl7rihma4b9dl8g). QR Scanning works best on mobile but can be used on a desktop as well. 
Another way to identify our tiny sensors (doesn't apply to the Motion sensor and CO2 sensor) is to use the Touch function to identify and find an online device within one project. For additional ways to identify your devices in the Organization, please visit our Help Center manual.
Step 5
Place your sensors
In this section, you'll find essential tips for sensor and Cloud Connector placement to ensure a successful installation.
Mounting choices
Depending on the type, sensors can be affixed using two distinct methods: adhesive application or screw-based mounting.
When it comes to our 19mm sensors, the included adhesive fastens them to most surfaces permanently. If the installation is temporary, we suggest using a mounting putty. Find more mounting tips in the guide on adhesives for different mounting conditions. 
For certain sensors, such as Motion sensors and CO2 sensors, it is possible and advisable to reinforce their attachment using screws.
Ensure coverage
During installation, ensuring each sensor connects reliably to Cloud Connectors for data transmission is essential.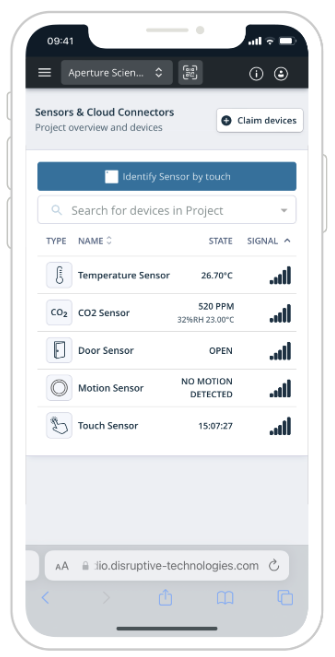 On-site surveys are the best way to assess signal strength. The sensor type determines the wireless range, which can vary between 25 and 160 meters. In case of bad coverage, you can increase the range by using range extenders or installing them in open spaces. For detailed information regarding the wireless range of each sensor, kindly refer to their individual datasheets.
The last step in the installation process is to verify that all sensors are reporting data with a strong radio connection to Cloud Connectors.
To learn more about installation planning and environmental considerations, we encourage you to consult our Installation planning guide. 
Need assistance?
Please feel free to reach out to our support team if you require additional assistance or have any further inquiries not covered in our Help Center. We are here to help!